Hello Everybody,
This is the devlog for the release of version 0.9.3. The main focus in this version has been on bug fixing but we have also added some new features.
Facepacks

Together with our modder we have added a number of real faces for over 200 players. The faces are visible when entering the player overview as well as on the transfer portal.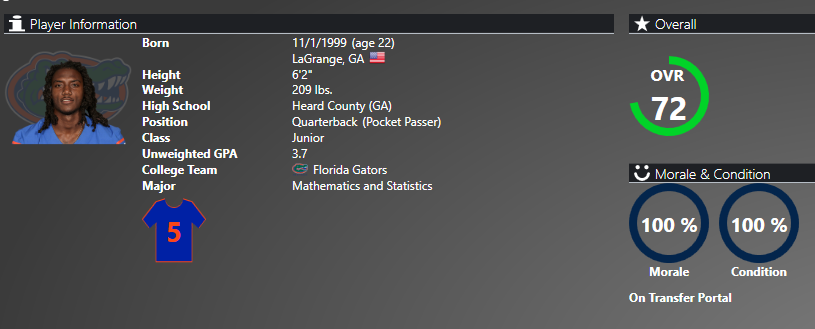 New Features

Added so some transfers from major and minor teams will be available
Added so it is possible to recruit quarterbacks and line backers based on system
Added Redzone Efficiency to the game view and team season stats
Improvements
Added offensive/defensive schemes for position coaches which will impact the practice
Changed so the number of penalties in lower division games aren't that high
Changed so it isn't possible to remove secondary role from a CPU coach
Changed an issue with the score where one team were able to score one point
Fixed issue where it was possible to get a success rate of 150% on two point conversions
Bug Fixes

Fixed issue with playoff selection and bowl selection for Division II wasn't working
Fixed issue where it was possible to play against the same team twice in the season
Fixed issue with the scouting service when searching for better than one star players
Fixed crash at end of season in prestige mode
Fixed crash when clicking on a coach for a team changing division
Fixed crash when clicking on a rivalry for a team changing division
Fixed when getting an offer in prestige mode from a team in another division
Fixed crash when showing the playoff picture in Division II
The mod pack for the real teams can be downloaded here. It contains the facepacks as well as some updates for 2022
For more updates please follow us on Twitter, Discord, Reddit or Forum
Thanks to the people who have helped with testing and giving inputs for changes and new features.
Best Regards
The Game Development Team