Hello Everybody,
We are now ready with the release of CT Football Manager version 0.74. In this version we have focused on optimizing the scheduling.
This means that we have implemented and updated the following:
Fixed so AI will also make requests for future games
Added Power conferences and that some conferences needs to play a given number of games against other power conferences
Implemented the possibility of scheduling Home-Home series
Added so it is possible to either request a game for a given week or random week
Added the possibility of selecting either home or away game in a game request
Changed so it is now possible to schedule 10 years ahead
Added so some divisions will require a minimum number of home games (like FBS)
Added so the power conference champions are sure to get a big six bowl (also the best of the group of five winner)
Changed so week 13 is mostly rivalry week
Implemented so some rivalries will always be played at a specific time (like Third Saturday of October)
On the division player statisctics page we have updated so it is now showing top 20 in each category and also added QB rating and number of catches as statistics.
Finally we have implemented a number of logos for rivalries.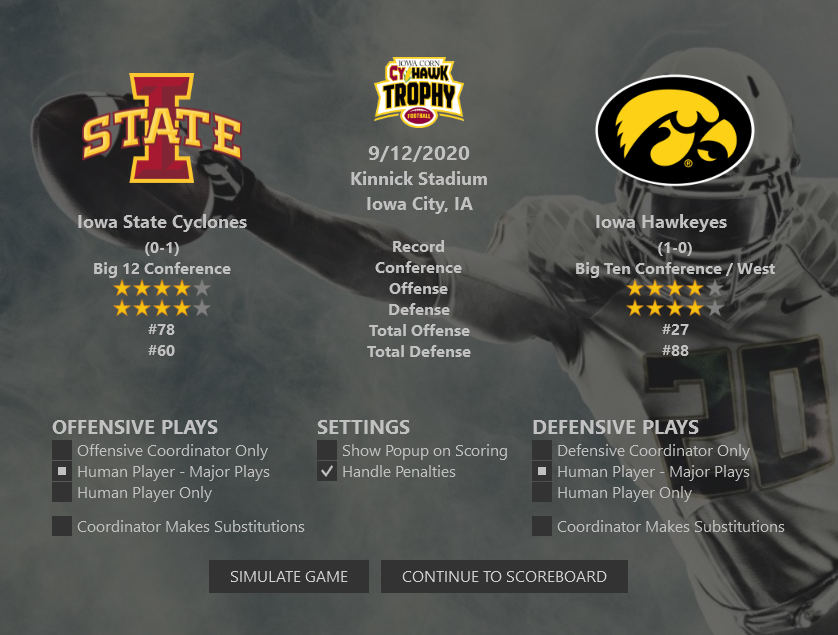 We hope to be able to look at tactics for the next release but at the moment we will have to focus on loading and saving. This is a huge task and we are not sure how to fix the issues.
The updated mod pack can be downloaded: here
For more updates please follow us on Twitter, Discord, Reddit or Forum
Best Regards
The Game Dev Team