Hello Everybody,
First of all Happy New Year to everybody.
This is of course the first release of 2021, and the main focus have been on bug fixing and changes for recruiting
Recruiting

For recruiting we have changed so instead of $ you get points for recruiting. The amount of points at the beginning of the game depends on the reputation of your team as well as the results you got in the past season. Throughout the season you get points to spend if you are in a TV game and on the results of your played games. The things like calling a recruit, visiting a recruit etc. then costs a different amount of points based on the number of stars the recruit have.
While implementing the changes for recruiting we have also implemented athletes. An athlete is a recruit who can play a number of positions, but you need to decide on which position you want to recruit him for.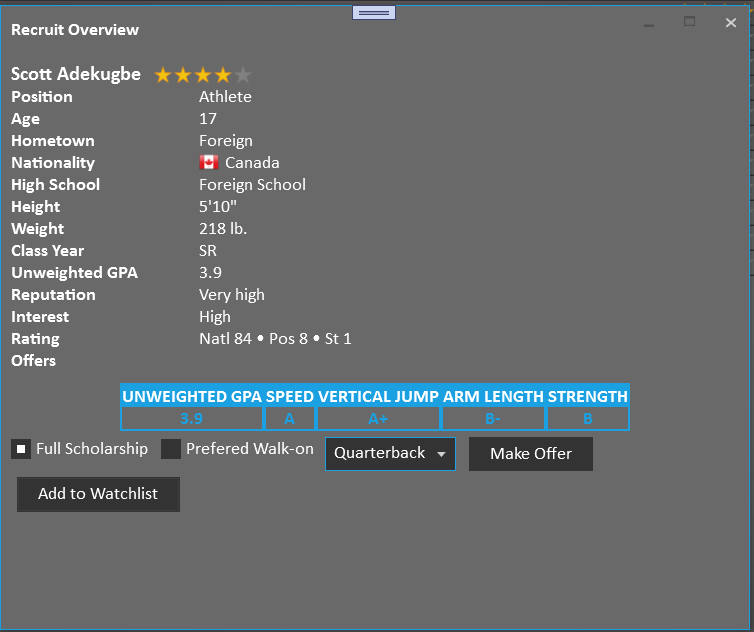 In order to get the prefered position for the recruit, you need to add him to the watchlist and wait for the scouting report to be updated.
Since we have athletes which can play different positions, we have also implemented so that in the beginning of each season (The whole month of July) it is possible to change the position of your players.
Bug Fixes
The release contains the following bug fixes:
Fixed issue with scheduling for season 2 which caused the game to crash since it created the schedule for the next season instead
Fixed issue when trying to schedule a game versus a minor team
Fixed issue with the rushing stats which could be seen in the Game Finished-mail and on the game stats for the Running Backs
Fixed issue with game requests after loading a saved game which made the game crash
Fixed crash at end of season when creating players from recruits
Fixed a general issue with loading of a saved game
Fixed issue with practice which made the players get a negative overall ranking which again made the game crash
Changed some of the screens where the right part of the screen was cutted off. The minimum resolution is 1280 x 720
We have also changed the error handling so the crashes should both be shown on the screen and written in the log file (CTFM.log). With this we hope to get a more effective error handling in the future. So if you get any crashes please sent us the screen shot as well as the CTFM.log-file.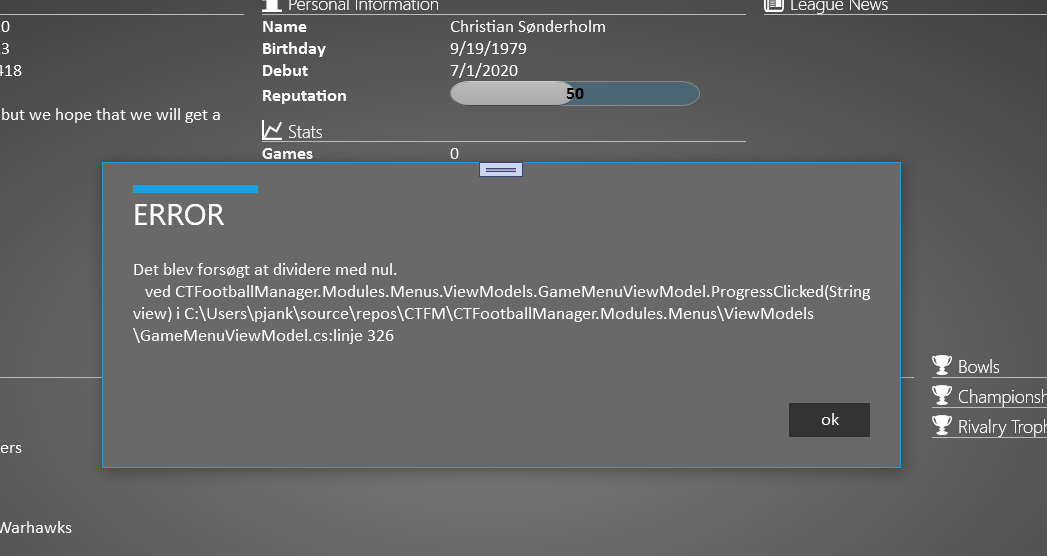 For more updates please follow us on Twitter, Discord, Reddit or Forum

Best Regards
The Game Development Team