Hello Everybody,
It has only been around 10 days since the latest release, but we are already ready with the release of version 0.8.7. In this version we have focused on a lot of smaller tasks and optimizations.
Position Coaches
One of the things we have added is position coaches, so you will now have a number of coaches for specific areas.
The different position coaches are used when the players are doing practice.
It is possible to set seconday roles for a coach, so the defensive coordinator will also handle the role as defensive end coach.
We have also implemented so you can promote a coach so a coach can be changed from one role to another.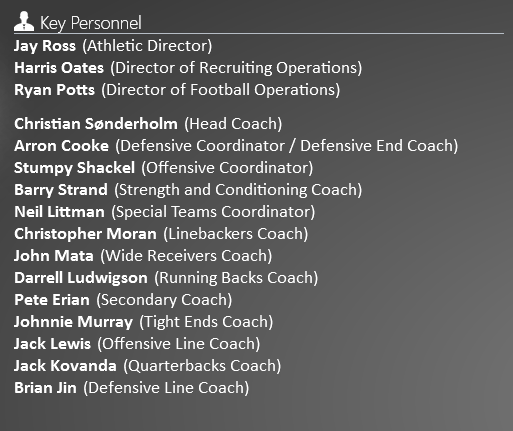 New Features
Implemented so it is possible to fire the coaches at the beginning of a game
Implemented 3rd and 4th down conversion statistics
Improvements
Implemented so a tied game when simulating a human game will result in simulation of overtime
Changed so time of possession isn't set at 30 minutes for each team
Changed so more juniors and redshirted sophomores will declared for draft
Fixed so it is not longer possible to hit a 75 yard field goal
Optimized the number of morale issues
Fixed a GUI issue when selecting FCS teams on the select team view
Changed so a 3-4 yard kick and punt return wouldn't place the ball at the 25 yard line
Bug Fixes
Fixed issue when simulating season 2 due to issue with the team records being updated
Fixed issue with some teams playing two games per day
Fixed an issue where the game some times crashed when scheduling a game with a minor team
Fixed bug where the game crashed when playing with FCS teams due to too many walkons
The only issue we haven't been able to fix, is an issue where the game isn't saved correct, so it can't be loaded. It has been reported by a few users, but we can't recreate so we can't fix it.
For more updates please follow us on Twitter, Discord, Reddit or Forum
Best Regards

The Game Development Team
Comments
Log in with itch.io to leave a comment.
Can you add a setting where you can turn off being fired? That would be a good idea.