Hello Everybody,
We are now ready with the release of version 0.8.11. We haven't been able to use much time for development in the past month, but we have still been able to do an implementation of minor teams getting game offers from major teams and recruits making verbal commitments.
Offers From Major Teams
In the previous versions it was possibility to make a game request for minor teams when playing with a major team.
In this version we have extended it, so it is now also possible to get a game request from a major team when playing with a minor team.
In order to get this feature you need to download the latest mod pack mentioned later in this update.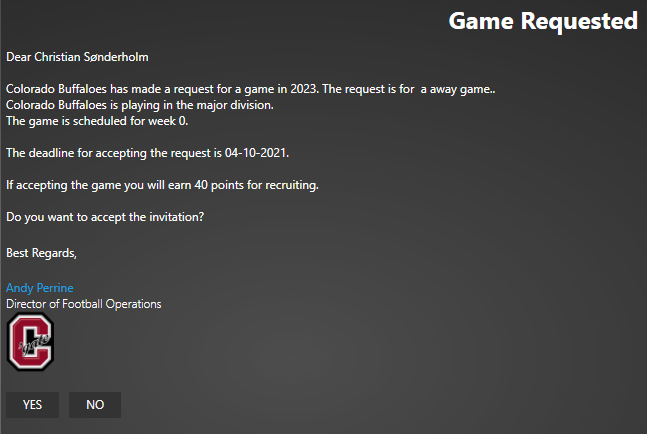 Verbal Commitments
We have implemented so it is now possible to make a verbal offer to high school freshmen and sophomores. Sometimes the recruit from verbally accept the offer, but it is still possible for both the recruit and the team to cancel the offer/commitment.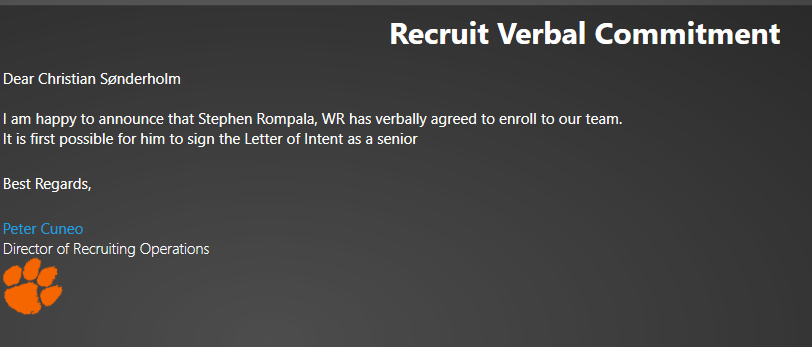 New Features
Added Training Facilities where it is possible to ask the board for an upgrade. Better training facilities helps when recruiting players
Improvements
Added the posibility of "un-reshirt" a player
Bug Fixes
Fixed some issues with penalties when simulating a human game
Fixed an issue with not always been invited to a bowl game when having a winning season
Fixed bug when hitting the back button on end of season
Fixed bug where the strength coordinator was missing
Our modder has added some FBS (major teams) for the FCS and also added some real training facilities for FBS so please go ahead and download it here

For more updates please follow us on Twitter, Discord, Reddit or Forum
Thanks to the people who have helped with testing and giving inputs for changes and new features.
We already have some input for the next release and with a summer vacation coming soon we think we will be able to get a lot of feature implemented for the next release
Best Regards
The Game Development Team