Hello Everybody,
We are happy to announce the release of version 0.9.1. This release contains a number of bug fixes, some further tactics options and the possibility of realignment of teams.
Realignment of Teams
Our modder asks us to implement a feature, where it is possible for teams to change conferences. This has been implemented so teams can either change conferences, new teams can be added to the division and other teams can moved to another division (to the majors).
This also means that our modder has added the realignments announced for the next years in both FCS and FBS.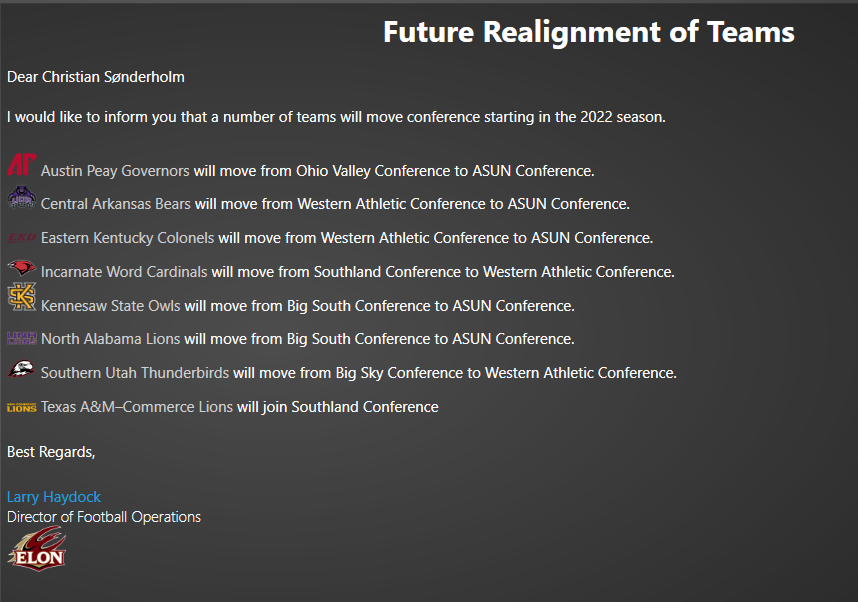 New Features

Added the possibility of selecting third down HB and goalline HB
Added team sacks as a stat
Changed so the record for a team shown on the scoreboard is for the selected week instead of for the current game time
Improvements
Added MLB and OLB as player positions
Updated some of the GUI parts on different views
Added so it is possible to set nationality in the editor
Added further information to the scoreboard
Bug Fixes
Fixed crash when clicking on an unemployed coach in the coaches view
Fixed issue where the overtime ran forever
Fixed game crash when selecting option plays
Fixed issue with not being able to set the height of the player in the editor
The mod pack for the real teams can be downloaded here. It contains a number of added players, changes to NCAA American Athletic Conference Football, ASUN in FCS from 2023, Black College Hall of Fame Game and the realignment of teams.
For more updates please follow us on Twitter, Discord, Reddit or Forum
Thanks to the people who have helped with testing and giving inputs for changes and new features.
Best Regards
The Game Development Team